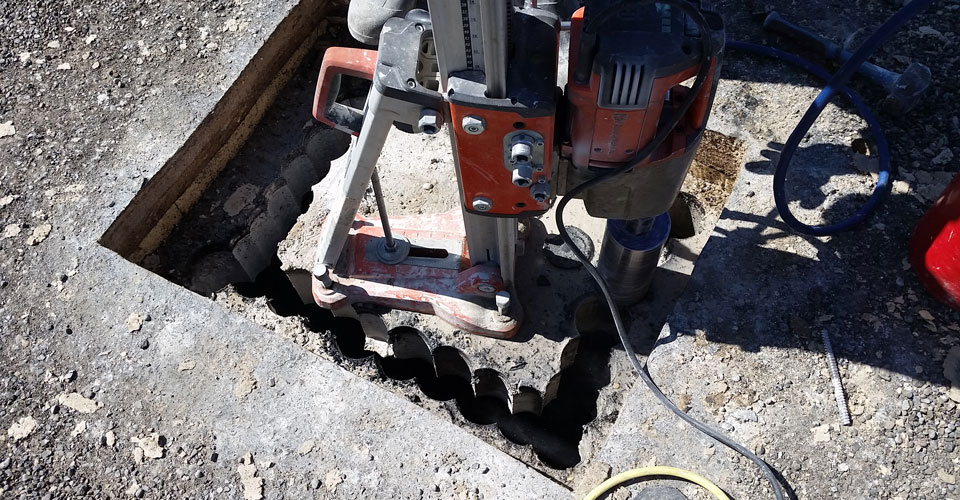 Core Drilling

Hydraulic core drilling is Ace Cutting and Coring's specialty.
Core drilling is necessary to allow new access conduits to be run through concrete. It's needed for almost all concrete buildings at some point. In all projects, the process of core drilling is similar but it can still be customized. You're able to choose the size of drill bit you'd like to be mounted for your project. If we don't have one in stock, we'll make it for you.
Core drilling is used in a wide variety of situations:
Plumbing and electrical services (the drill can cut through rebar if needed)
HVAC
Communication services
Making manholes, slab and roadway holes
Sampling concrete
Fixing lighting and light fixtures
Diamond bit core drillers are expensive pieces of equipment and require extensive training to use. An inexperienced operator can easily not know what they're getting into and ruin a project or drill. There's a lot of knowledge, equipment, and training required to use a core driller and even more experience required to complete complex or unique projects.
Here at Ace Cutting and Coring, we've been doing this for over 40 years. We're dedicated to offering you the best service at the best prices.
We have specialized tools and a highly-trained team of professionals ready to tackle any project. There is no project too big, too small, or too complex. At Ace Cutting and Coring, we're always ready to take on something new. When you partner with us, your project becomes our project and we'll work around the clock to make it happen on time and on budget.
Ace Cutting & Coring provides a variety of services and are equipped to handle residential to industrial sized projects.
At Ace Cutting & Coring, our services all start with our honest, professional, and highly trained team. We're available 24/7 to make sure the job gets done right and on time.
There is no project too big or too complex for us to handle. In fact, we design and build custom cutting equipment unique to the industry. We bring our own tools, power, and water supply with us.
If you're in need of core drilling services or would like more information, contact us today!