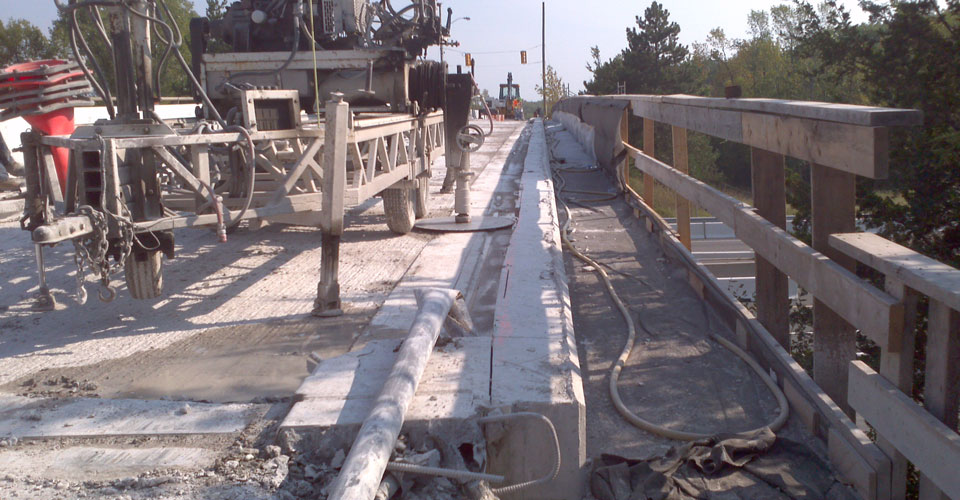 Bridge Cutting
Safety is our priority when working on bridges
Bridge cutting is tricky business. It involves cutting bridges and under-bridges for upgrades or new construction. With decades of experience and speciality safety tools, Ace can get any bridge cutting task done for municipalities with the safety, speed, and precision. We can cut arched beams, pier caps, and bases – all while making sure traffic runs smoothly and nothing is damaged.
Few contractors wholly trust others to chip away at concrete on a standing bridge, but Ace Cutting and Coring has a sought-after reputation for being safety-forward and reliable. We have over 40 years experience cutting and coring. When it comes to personal safety, it's no time to cut corners hiring inexperienced staff to work on bridges with heavy machinery. Put your project in good hands when you work with us! Contact us today and you'll see why our clients always leave us raving reviews.
We have specialized tools and a highly-trained team of professionals ready to tackle any project. There is no project too big, too small, or too complex. At Ace Cutting and Coring, we're always ready to take on something new. When you partner with us, your project becomes our project and we'll work around the clock to make it happen on time and on budget.
Ace Cutting & Coring provides a variety of services and are equipped to handle residential to industrial sized projects.
At Ace Cutting & Coring, our services all start with our honest, professional, and highly trained team. We're available 24/7 to make sure the job gets done right and on time.
There is no project too big or too complex for us to handle. In fact, we design and build custom cutting equipment unique to the industry. We bring our own tools, power, and water supply with us.
If you're in need of bridge cutting services or would like more information, contact us today!