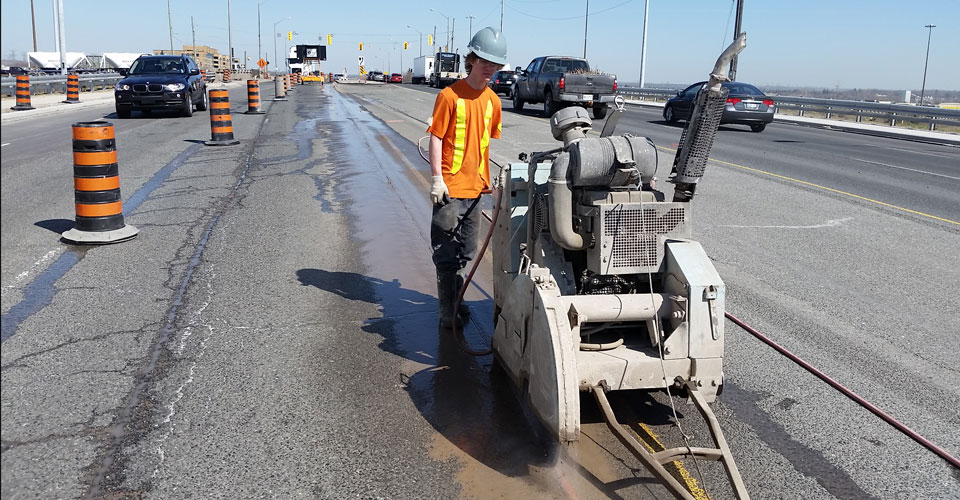 Asphalt Sawing
Asphalt sawing is the crutch of pavement projects.  
Asphalt (also known as blacktop) is the center of most paving projects. Ace Cutting and Coring are experts at knowing exactly how to cut through asphalt. We've completed many asphalt sawing jobs over the years and our clients are always more than happy with the results.
Due to the fact asphalt is "softer" than concrete, it often needs repairs. Whether it's in driveways, roads, parking lots, or other places – we have the right cutting tools and equipment to properly execute any asphalt sawing project. In addition to frequent repairs, asphalt also requires specific tools to cut precisely. At Ace Cutting and Coring, we can design custom tools for any project based on the specifications.
Anyone can find themselves in need of asphalt cutting and sawing services.
Residential applications include when a driveway needs to be replaced or filling in potholes. Municipal and commercial applications include removing asphalt for new roads to be put in, adding water mains to existing roads, properly filling potholes, putting in electrical lines, and repairing parking or equipment lots.
We have specialized tools and a highly-trained team of professionals ready to tackle any project. There is no project too big, too small, or too complex. At Ace Cutting and Coring, we're always ready to take on something new. When you partner with us, your project becomes our project and we'll work around the clock to make it happen on time and on budget.
Ace Cutting & Coring provides a variety of services and are equipped to handle residential to industrial sized projects.
At Ace Cutting & Coring, our services all start with our honest, professional, and highly trained team. We're available 24/7 to make sure the job gets done right and on time.
There is no project too big or too complex for us to handle. In fact, we design and build custom cutting equipment unique to the industry.  We bring our own tools, power, and water supply with us.
If you're in need of asphalt sawing services or would like more information, contact us today!